Donate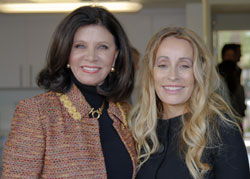 Donor Debbie Gaby, President and
Co-Founder of Sleep America
with our CEO Mary Gauwitz
Dear Friends,
Editha House was created for the sole purpose of providing housing for guests receiving treatment at one of the Valley's finest medical facilities.
Currently, the cost to the Foundation for one room is more than $100 per night.
We ask that you consider making a donation to help us cover the expense of each stay. In addition, please share this information with your employer, place of worship, family members, friends, or neighbors who might consider making a small donation, so that we may continue to help those in need.
Contributions ensure that guests will have a supportive and affordable place to call home while receiving treatment. We thank you for helping us keep our doors open for all the guests who will follow.
Sincerely,
Mary Gauwitz
CEO
Donation Instructions:


Click on the "Donate" button. This link will bring you to a secure "PayPal" website where you will enter your donation amount.


After entering your donation amount, you can login to your PayPal account, or enter in your payment information and click the "Review Donation and Continue" button.


Under the "Purpose" section, you will see Editha House noted. Underneath, click on the link titled, "Details"


A box will open up allowing you to signify the purpose of your donation: i.e. "In Memory of, In Honor of, Adopt a Room, etc."


Once completed, click on the yellow "Donate Now" button at the bottom of the screen.


Once your donation has been made, Editha House will receive a confirmation email stating the amount and any special instructions you have indicated.