About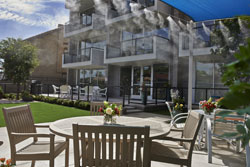 Editha House was established in November 2011 to provide affordable lodging for adult cancer patients and their adult caregivers traveling to Phoenix, AZ for medical treatment. We are conveniently located in Central Phoenix, close to many of the Valley's preeminent medical centers.

Our house consists of sixteen guestrooms with private bathrooms and kitchens. Besides the private areas, we have two community television lounges and a community kitchen/dining area. Outside the house, we feature a large patio area and private parking. All together, we offer 10,750 square feet of serene living space.

For your convenience, we have compiled a Guest Resource Binder, located in each guestroom. Click here to download a list of grocery stores, pharmacies, shopping centers, entertainment and other local resources.

Want more information? Feel free to navigate around the website, take a virtual tour or email us at info@edithahouse.org.

Editha House Mission Statement
Providing adult cancer and lung transplant patients a compassionate and supportive home-away-from home atmosphere, Editha House helps reduce emotional and financial challenges during a vulnerable time in one's journey.

Editha House Vision Statement
Editha House is committed to being the first choice in Arizona's medical community and the recognized leader in serving adult patients by providing outstanding hospitality housing as well as care and comfort to those in need.

Editha House Core Values


Hospitality Excellence: Distinction in supportive care, quality service, safety and amenities to our guests, caregivers, and each other.
Compassion: Showing empathy through listening, consideration, dignity and respect.
Encouragement: Enthusiastically providing others with hope, confidence, resources and supportive care.
Gratitude: Having an attitude of thankfulness, respect, and appreciation for our guests, caregivers, resources and each other.
Supportive Care: Ensuring an atmosphere of safety, healing and serenity for the mind, body and spirit.