How Can I Stay at Editha House?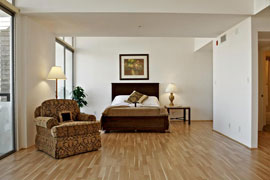 If you are interested in staying at Editha House, please speak to your medical professional or contact us, and we will send the required paperwork to your medical professional.
All guests wishing to stay at Editha House
MUST
be referred by a medical professional and meet all Eligibility Requirements.
Once we receive a referral from your medical professional, we will contact you to make arrangements.
Upon check-in, we ask for a cleaning donation of $45.00. The cleaning donation, payable by a personal check or credit card, helps offset the cost of professional cleaning to the rooms in between guests.
Please feel free to email us at
info@edithahouse.org
or call us at 602-388-4920 to schedule a tour or for further information.
The safety of all our guests is very important to us. Editha House reserves the right to refuse admittance to any potential resident or guest with a criminal conviction. Editha House does not admit anyone with a criminal felony conviction that may threaten the health, safety, welfare, and ability of other individuals to peacefully enjoy the House (e.g., violent crimes, domestic violence, child abuse, sex offenses, illegal drug activity, burglary and/or theft). Editha House also will not admit any individual who provides false, incomplete, or misleading information. Editha House also reserves the right to expel a guest for any other inappropriate, irresponsible, or criminal behavior that takes place while temporarily residing at the House.