History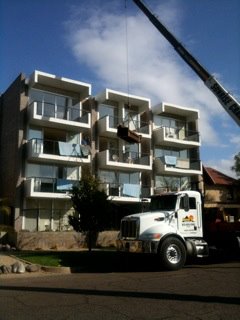 Crane delivers sofas to our guest rooms
In August of 2008, the Kapoor Foundation was approached about the concept of funding a six-room building that houses cancer patients coming to the Phoenix area for treatment. As the Foundation has always supported many worthwhile causes in the community, and one area of major interest has always been cancer, this theory soon turned into a reality...
Dr. Kapoor, the President of the Kapoor Foundation, and Mary Gauwitz, the Executive Director, began meeting with several CEO's, hospitals, community organizations, social workers, and others working in the field of cancer to determine the need in the community. With each meeting, a housing shortage always came up. They realized that six rooms would not be enough. A decision was made to visit other hospitality houses across the nation to learn more about this important resource for cancer patients. Those visits brought them to Hope Lodge in Atlanta and New York, and locally to the Ronald McDonald House in Phoenix.
In December of 2009, they began working with the City of Phoenix and an attorney to find local properties that might work. In August of 2010, after looking at hundreds of properties, they found the building located at 336 East Willetta. They closed on the property before the end of the year and began looking for an architect and contractor. They chose to work with Hugh Knoell of Knoell & Quidort Architects, and Greg Hunt of GM Hunt Builders. Work was completed in about 9 months and Editha House was able to open its doors to the community on November 1, 2011.
Editha House is dedicated in loving memory of Editha Kapoor who sadly lost her battle with breast cancer in 2005.